21 Acres: Fridays @ the Farm
Enjoy a relaxing evening at 21 Acres. Join the conversation about local food, and learn more about 21 Acres' mission to help people learn how to grow food, eat well and live in a sustainable way.
Fridays @ the Farm is an event series developed for the public, held the last Friday evening of each month from February through September. These monthly events are designed as an opportunity for social interaction, conversation about, and an increased awareness for 21 Acres' mission of climate action and local food.

Featured for February, 2016:
A demonstration of Russian-style peasant food made with locally grown, Organic foods from farms in the Sammamish Valley. A cash bar featuring local Salmon-Safe Wines, and Organic local micro-Brew & Cider will be available during the event! Rounding out the evening's Russian theme, will be a 20-minute Chekov comedy, "The Bear," as read by professional, local actors: Cathy Madden, Amanda Hilson, and Alex Matthews.

To register, click here.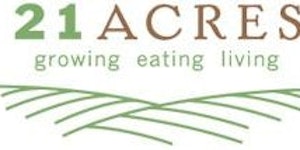 Dates: Feb 26, 2016
Event Time: Friday, February 26, 2016 from 6:30 PM to 9:00 PM (PST)
Region: WA Puget Sound
Address: 13701 Northeast 171st Street Woodinville, WA 98072
Website: http://wp21acres.wpengine.com/organizer/21-acres/
Phone: (425)481-1500
Email: deb@21acres.org
Cost: Approx. $25.00