3. Film Screening of This Changes Everything
21 Acres presents:

Film Screening, "This Changes Everything"

What if confronting the climate crisis is the best chance we'll ever get to build a better world?

Filmed over four years in nine countries and five continents, This Changes Everything is an epic attempt to re-imagine the vast challenge of climate change. Directed by Avi Lewis, and inspired by Naomi Klein's international non-fiction bestseller, This Changes Everything, the film presents seven portraits of communities on the front lines, from Montana's Powder River Basin to the Alberta Tar Sands, from the coast of South India to Beijing and beyond. Interwoven with these stories of struggle is Klein's narration, connecting the carbon in the air with the economic system that put it there. Throughout the film, Klein builds to her most controversial and exciting idea: that we can seize the existential crisis of climate change to transform our failed economic system into something radically better.

Provocative, compelling, and accessible to even the most climate crisis-fatigued viewers, This Changes Everything will leave you refreshed and inspired, reflecting on the ties between us, the kind of lives we really want, and why the climate crisis is at the center of it all. Will this film change everything? Absolutely not. But you could, by answering its call to action.

Join us at 21 Acres on Tuesday, March 22 or Saturday, March 26 at 6:30pm for a community screening of this powerful film.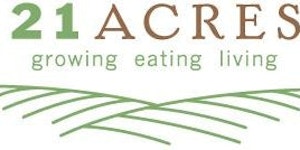 Dates: Mar 22, 2016 - Mar 26, 2016
Event Time: Tuesday, March 22, AND Saturday, March 26, 2016 from 6:30 PM to 8:30 PM (PDT)
Region: WA Puget Sound
Address: 13701 Northeast 171st Street Woodinville, WA 98072
Website: http://www.21acres.org
Phone: 425-481-1500
Email: Please contact via phone
Cost: FREE